Michaël Laurent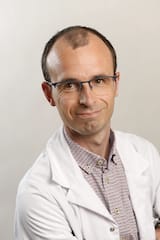 Dr. Michaël R. Laurent, M.D. Ph.D., received his training in internal medicine and geriatrics at the University of Leuven (KU Leuven). He received a fellowship from the Research Foundation Flanders (FWO) and worked at the Laboratory of Molecular Endocrinology for his PhD project entitled "Male osteoporosis: role of androgen bioactivity and mechanical loading".

He works at the geriatrics unit of the Imelda general hospital in Bonheiden, Belgium. At the University Hospitals Leuven, he is a consultant at the Centre for Metabolic Bone Diseases, a consultant on rare metabolic bone diseases and disorders of mineral metabolism, and coordinator of the care program from rare bone diseases. He is a member of the Board of the Flemish Rare Bone Disease Network.

Dr. Laurent is a member of the ASBMR, the ECTS and the Belgian Ageing Muscle Society and has received young investigator awards from the ASBMR, ESCEO and the Belgian Society for Gerontology and Geriatrics. He is an Associate Editor of Bone Reports, and Editorial Board member of Endocrinology and JBMR. He has authored or co-authored more than 100 international peer-reviewed papers and book chapters.