What is osteoporosis?
Osteoporosis, which literally means "porous bone", is a disease in which both the density and quality of bone are reduced. As the bones become more porous and fragile, the risk of fracture is greatly increased.
The loss of bone occurs "silently" and progressively. Often there are no symptoms until the first fracture occurs.

The most common fractures associated with osteoporosis occur at the hip, spine and wrist. The incidence of these fractures, particularly at the hip and spine, increases with age in both women and men.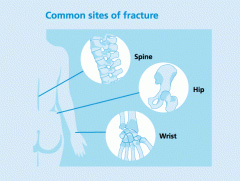 Of notable concern are vertebral (spinal) and hip fractures. Vertebral fractures can result in serious consequences, including loss of height, intense back pain and deformity. A hip fracture often requires surgery and may result in loss of independent living.

The good news is that osteoporosis is now a largely treatable condition and, with a combination of lifestyle changes and appropriate medical treatment, many fractures can be avoided.