Jean-Jacques Body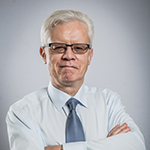 Professor Jean-Jacques Body received his training at the "Université Libre de Bruxelles" (Free University of Brussels) and at the Mayo Clinic (Rochester, Mn, USA). He is an internist, an endocrinologist and a medical oncologist. He is now Head of the Department of Medicine at University Hospital Brugmann in Brussels and Head Consultant for Bone Diseases and Endocrinology at Institute Bordet (Cancer Centre of University of Brussels). He is Professor of Medicine at the "Université Libre de Bruxelles".
He was previously Head of the Internal Medicine Clinic at Institute Bordet. He has also developed the Supportive Care Dept at the same Institute. During this period, he created the first National Course on Supportive and Palliative Care. He also created the "Groupe Européen francophone d'étude des Métastases Osseuses (GEMO)" of which he is the first President. He is also President of the Belgian Bone Club. He is a member of several professional organizations, including ASCO, ESMO, SIOG, MASCC, ASBMR, ECTS, IBMS, Endo Soc.
His particular research interests are tumor bone disease and osteoporosis. He has been Editor of the European Journal of Endocrinology and of the book Tumor Bone Diseases and Osteoporosis in Cancer Patients.
He has authored or co-authored more than 190 international peer-reviewed papers and 50 book chapters or proceedings and he counts more than 150 invited lectures for international meetings.